Reading Time:
5
minutes

As someone who makes a living from the internet, it's imperative that I have a rock-solid connection. We were on the cusp of moving (stop-start due to Covid-19) and we had no internet in place.

I then logged onto the Plusnet website and was met with the below horror show.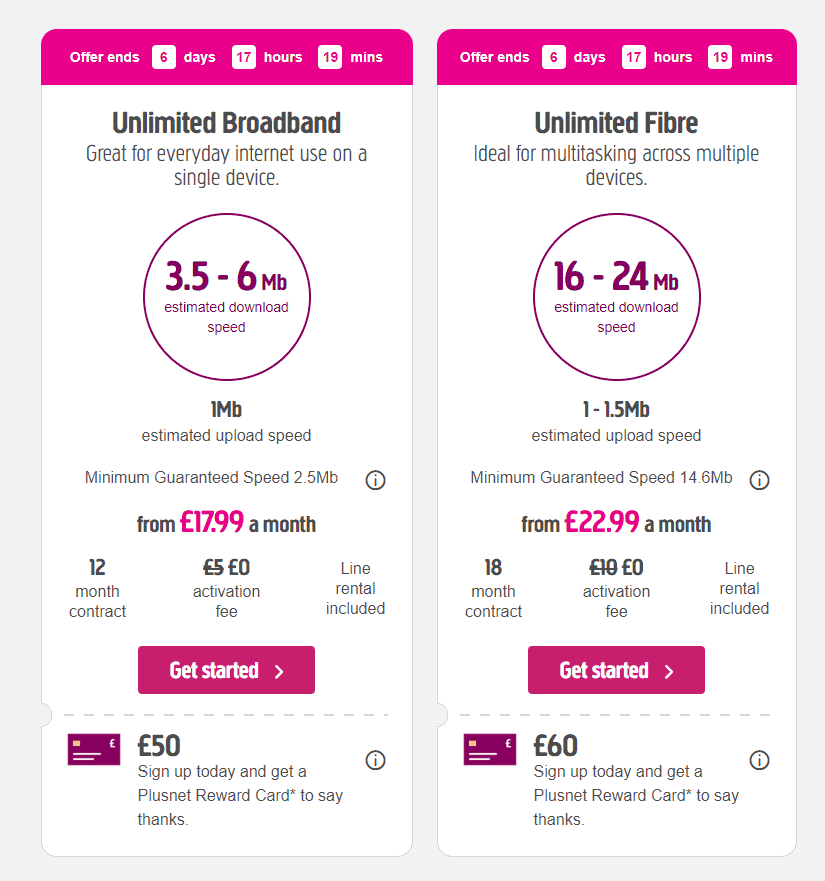 1-1.5mb up? What?……..

We were moving approximately 5 minutes walk away from our old house. I knew Virgin Media was off the menu but this was next level shock and horror. I jumped onto Plusnet customer support and the horror was compounded….' It's a 6-week wait for an engineer Mr Gibson'.
I began scrambling for alternatives. Not only was the speed sub-par (we live in a Suburban area) but the wait was just not an option. I then stumbled into the world of 4g broadband.

Most of the main networks offer 4g broadband with varying router qualities and prices. I decided on Three Mobile as they offered an Unlimited data package for just £30 with a monthly rolling plan. I naturally wanted to assess my options and not tie myself to a long contract given I had never experienced 4g broadband before.

The router they offered also seemed to be the best on the market. This is the Huawei B535. At the time of writing, there's no 5g network within my area but I imagine home mobile broadband will become a mainstream option once it rolls out.
Choosing a 4g home broadband provider
Choosing which provider to go with ultimately comes down to your location and the available service. I assessed all providers and 5g wasn't available with any of the big players. I then went on price, quality of equipment and flexibility. Three Mobile came out on top in this area.

It's worth noting Three Mobile offer a 30-day money-back guarantee and also a 14 day cooling-off period with your contract. If it's a bit shit signal wise you can send it back.
Router Cost:
At the time of purchase, I paid £30 for the router upfront as I am on a 30-day rolling contract. It looks as though this has been ramped to £49 (I did think this was cheap).
You can still get the router for £30 however there's a 12-month commitment.
It's worth noting that you can actually buy a 4g router outright and put any sim card in. This is the more expensive route but frees you from any specific commitments.
How easy is it to set up?
The amazing part about 4g home broadband is the ease of set up and delivery. I received mine the next day, popped the sim card in the back and it was ready to rock and roll. One of the easiest things I've ever set up. It also works with Google Wifi so if you want to make sure the signal strength/speed is great around the house it's a breeze with Google Wifi.
Is it any good?
We have been using 4g broadband now for a couple of months and overall I am impressed. We are in a very good signal area (always check this before buying) and the router actually never drops below 5bar signal.

As far as I am aware we are yet to have any type of downtime on the service. It works incredibly well and keeps us connected to the internet. Having a four-year-old at home there are times when streaming it can buffer but I imagine given the terrible Fibre broadband speeds in the area that would be no different. It hasn't prevented us from watching any of the streaming services.

Note: This seems to only impact Smart Tv's/NowTV devices. Streaming on iPads and more robust technology seems to be rapid and as normal.

Work-wise the router is in my office given 4g home broadband works better upstairs and honestly, my connection is better than ever. We had 200mb Virgin at the previous property and even with Google Wifi, the speed wasn't as good.
How fast is three 4g home broadband?
Again this is highly subjective to where you live and ultimately the strength of the signal you receive. I've run a couple of tests below at different times of the day. As you can see a peak of 77mb download is pretty impressive given the speeds offered by Fibre broadband.
Early morning speed: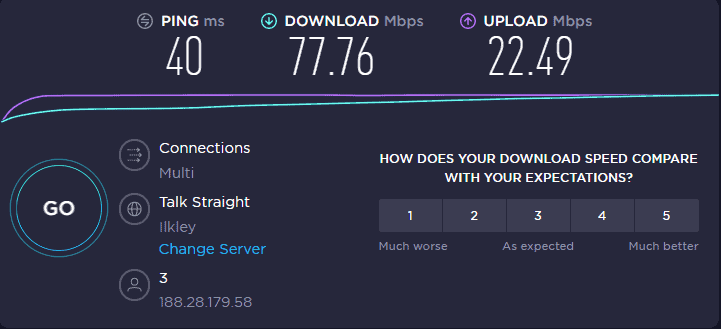 Mid Afternoon Speed: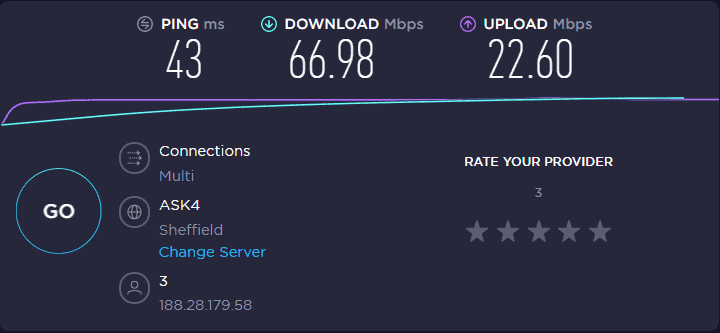 Evening Speed: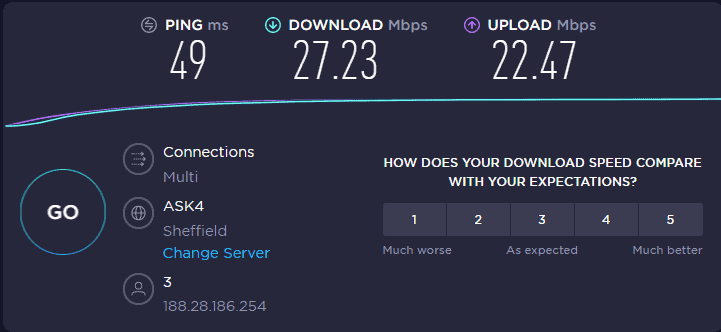 Having spoken with a neighbour he mentioned struggling to have a Skype Video call while his kids streamed a TV programme. He is on a traditional connection. I do not have that problem at all so it seems to be the far better of the options available.
What is the signal strength like?
I've been hugely impressed by the signal strength. I bought some of those external antennas however even before that it never drops below 4 out of 5 bars and is largely 5 bar signal (95% of the time).

When we first moved in for some reason I set the router up in the living room and it fluttered between 3 to 4 bars. Moving upstairs solved all this.

I am debating buying an external antenna for the outside of the house/loft. I've put this off thus far as it's been suggested if you get 5 bar signal already it won't make a big difference. I would be interested to hear if it can improve speed also. I haven't read anything thus far to suggest that is the case.
Why 4g broadband vs wired broadband?
Flexibility – The router can essentially be used anywhere. I think they are popular with those who live on narrowboats or those who travel regularly. It offers a little more stability over tethering your internet from your phone.
Poor Fibre areas – My area for some reason has a terrible fibre connection yet has outstanding phone signal. It made sense for us to look into 4g broadband. I believe it's popular with some rural areas where they have a clear sight of the Telephone masts but lack of fibre internet.
5g ready – My router and contract are 5g ready so as soon as it rolls out it'll be ready to go. I imagine those in cities would benefit from this home broadband now as they will already be able to grab 5g speeds.
No tie in – There's no tie in. It's a 30-day rolling contract which doesn't seem to be offered by fixed-line providers. NowTV has one but there is a £60 set up fee. This could be an option if you have better speeds on offer via Fibre broadband than I do.
Fast delivery – I ordered my router on a Thursday and it arrived Friday morning. It was plugged in and ready to go.

Ease of set up – 4g Home broadband is plug and go. You can be set up and receiving internet within minutes.
Summary:
I am hugely impressed with my Three 4g home broadband set up. It's suiting the needs of my family and allows us to be connected without issues. If you live in an area where there's poor quality Fibre but you can receive a strong Mobile signal then it's an option i thoroughly recommend.
There are other providers also (EE are supposed to be strong) so it's about finding the solution for you. I would be keen to understand the impact of an External antenna in my circumstances so if anyone has any advice please let me know!