Reading Time:
4
minutes
Kids change everything. Literally everything. You accumulate more shit, you have less free time and you drink more coffee. They also bring smiles and joy you may not have had since your own childhood.

When you have a child it's a life adjustment; when you have more than one it takes that adjustment to the next level. You now have 2/3/4 little people who differ in personality traits, how they eat & sleeping patterns. This naturally involves tweaks to your own life and your own routines.

I've been lifting weights in my garage for a number of years now but this changed with the birth of our second child in October. At the same time, we were about to start a four-month house renovation with my weight sanctuary (the garage) taking a bashing. Something had to give.

I had seen friends and family struggle with weight when having young children. Trying to fit exercise into an ever-changing schedule, sleep deprivation and keeping ahead with work is tough.

We've pivoted the way we exercise to align with the family dynamic currently and will continue to do so. This has involved me selling my irons and taking a different approach to exercise. My wife has done the same and we are able to maximise our health/fitness in a way that keeps us present with the kids as well as maintaining a level of health we are comfortable with.
Walking to school:
Walking is a fantastic exercise for both parents and children alike. Not only this but it's a bonding session where you can have a quality conversation away from devices and other distractions. When walking our daughter to school we talk about nature, what she's doing at school that day and so forth. It's a time to connect but also really good exercise for adults and children alike.

For the adults, it's approximately 3.5 miles a day. Walking becomes ingrained in your daily routine and is hugely beneficial to fitness and your mental health.

My wife takes the lion share of this however Friday is my day and it's unbelievable how the fresh air makes a difference to your well being.
Baby-Friendly Exercise Classes:
My wife has enrolled on a baby-friendly exercise class which is predominantly new Mums and enables them to jump back into fitness without having to worry about the baby. Essentially, it's a circuit training class where it's completely fine (and of course encouraged) to bring your baby. It's also a social environment where Mums get to meet and chat while exercising.

These classes are essential for new parents as they enable you to combine fitness with looking after your newborn.
Resistance bands/Body Weight Exercises:
Part of our extension work was taking the roof off my garage and building a second storey. As much as I love exercising outside it wasn't going to pass any health and safety regulations. The garage was a no go zone for months ahead.

We welcomed our little boy Barney at the same time as this (I know!) and had a few months of sporadic newborn sleeping ahead of us. I knew if I didn't switch up then exercise would fall by the wayside.

Enter resistance bands.

I've worked with resistance bands before and I've really liked them. For those who haven't heard of them, they are essentially strips of rubber you can attach to handles which act as a resistance and can improve your body composition in the same way weight lifting does.

With my wife taking the night feeds if our boy woke early as an early riser I would get up with him. Que early morning resistance band workouts next to a sleeping baby in the living room!
It worked remarkably well and enabled me to keep some level of resistance training while working through an extension and a newborn.
The builders are long gone now (thank f*ck) and Barney is sleeping much better but resistance bands/bodyweight exercises remain. I'm enjoying it and it provides me consistency to my workouts even if we are away from home (holiday for example). The kit is small, transportable and you can up the resistance easily enough by clipping another band on.
I am not turning my back on weights forever as they are still my favourite form of exercise however for now I will continue with my current path.
Cycling:
We are quite an outdoorsy family so we've always been keen to get our daughter cycling from a young age and consistently. Most weekends she will ride her bike and she's getting to the stage now where we feel comfortable going on our bikes with her too.
I also manage to get out on my bike a couple of times a week for a leisurely cycle. My bike of choice is a mountain bike and trekking through the woods vs road cycling. I find this far more fun and it instantly removes any anxiety within my mind. Resistance training is still my priority however I absolutely love cycling with no targets, no goals and no real route; just finding my way.
Cycling has become a real family activity and one which we will be able to do even more now our boy has reached the required age to ride in a baby Bike carrier.
Weekend Walking/Hiking:
Our weekend activities always consist of some type of outdoor walking/hiking. We have a baby carrier backpack which we use all the time when out at the weekend. Parks, National Trusts, nature trails. There's always one activity like this which we do on the weekend.
As a family this keeps the kids entertained (they love being outdoors) and for the adults, it keeps you active. It offers a good level of exercise but it's just something which is ingrained into our day to day life.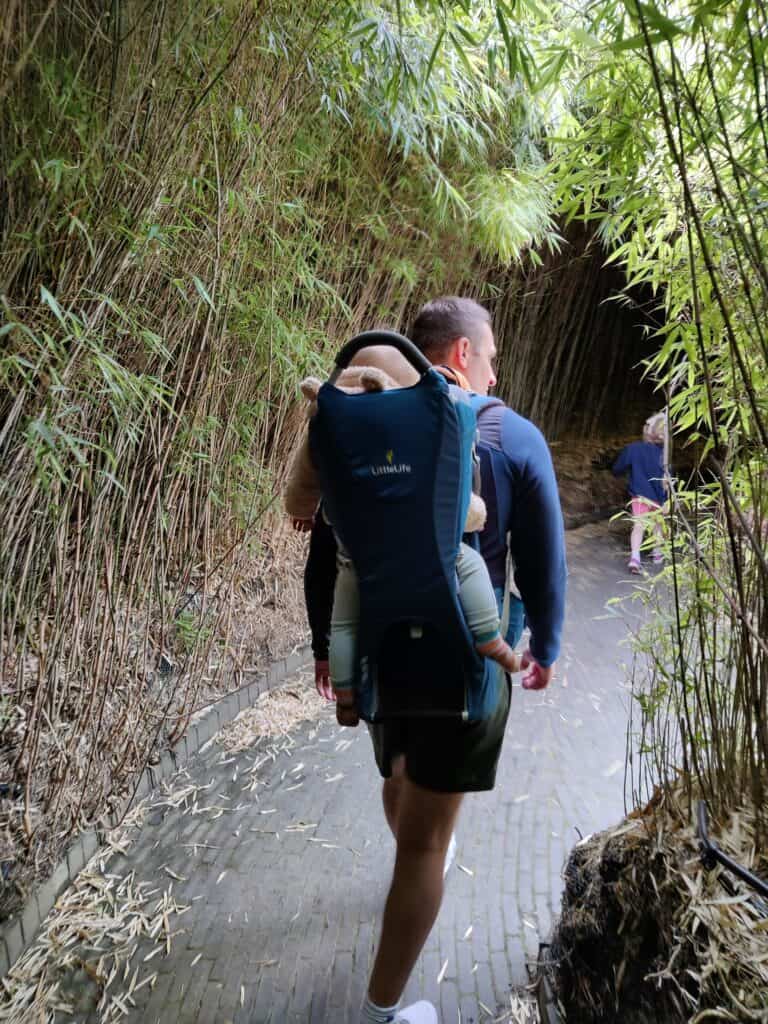 Life is a moving target; especially when you are bringing dependables into the mix. Pivoting your fitness routine around your kids not only helps you keep consistent with your fitness but it also raises children who are active and healthy. The physical and mental impact of exercise on your life is unquestionable. Building this into your day to day life enables you to reach a level of fitness without compromising on other areas of your day.