Reading Time:
6
minutes

Failure after just one month! (I didn't update monthly)

Jokes aside, this will be an August/September combination report looking at what I achieved in the past 8 weeks. It's fair to say the schools came back to our educational business with a bang! This report will again focus on the key strands of self-employment; freelancing, educational business and of course life and how I make sure I can be a good Dad/Husband.
Freelance:
August/September saw a huge change in my freelancing time allocation. I've now dropped this considerably as I believe the educational business needs my full attention. I spent the past month letting clients know I will be no longer available for retainer engagements as well as no longer taking on work which doesn't excite me.

Although the educational business is largely outsourced; there's an element of strategic thinking and mind share which is impossible when your calendar is completely booked. Furthermore, Ian & I made a significant business decision in September which impacts this further (more on this later).

I will be continuing to build and improve this website. I am also leaving open my enquiry form 'just in case' something cool comes along (+ eggs in one basket and all that jazz). If you have any thoughts on the type of content you would like to see then please let me know.
Enquiries:
The months of August and September brought in 18 enquiries. I actually placed a 'fully booked' message on my website for two weeks so I imagine without this the figure would be much higher. I decided to remove this as there's a certain excitement (maybe ego) around receiving enquiries and I always want to leave the door open should I ever want to venture into freelancing again.
Clients:
Gained: 1 (½ day training session)

Lost: 4 (Voluntarily gave up)

I haven't taken on any additional work this month but voluntarily gave up 4 clients. It's bittersweet for me however right now it feels like the right decision. My website tends to generate a high number of local enquiries (of which I love) so there's always an opportunity to take on work again.
Interestingly the half-day training session turned out to be a nightmare. The client forgot I was coming. I had driven 45 minutes and they had another engagement within the hour which they couldn't miss. These things happen and the client was mortified however I had a tinge of disappointment that id stepped away from growing my own business for something which didn't work out great. Clients hey?
Articles Released:
I have managed to produce 3 new articles over the past two months which is a little disappointing. The start of school term has been above and beyond anything we have seen before and I just haven't had the headspace to be creative.
6 Best Co-working spaces in Leeds (Update)
Freelance Enquiries: Types, Qualifying & Responding
Home Gym/Office One Year On
Website Traffic:
Traffic to my freelance site is TINY but qualified. Traffic has grown 51% year on year across August/September combined which is pleasing despite limited effort until recently.
Google announced the removal of review stars which worked really well for me and helped with click-through. A real shame but it's the game we play when it comes to Google.
Rankings:
Below are some of my primary rankings currently. You will see my highest rankings are related to my local area. This was strategic in order to capture local rankings for my money keywords (seo wakefield for example).
My 'freelance seo London' test seems to be working well and I am now occupying 5th position according to SEMRush which is quite funny in a sense. I am still shocked at the lack of London based SEO's not trying to capture that search term.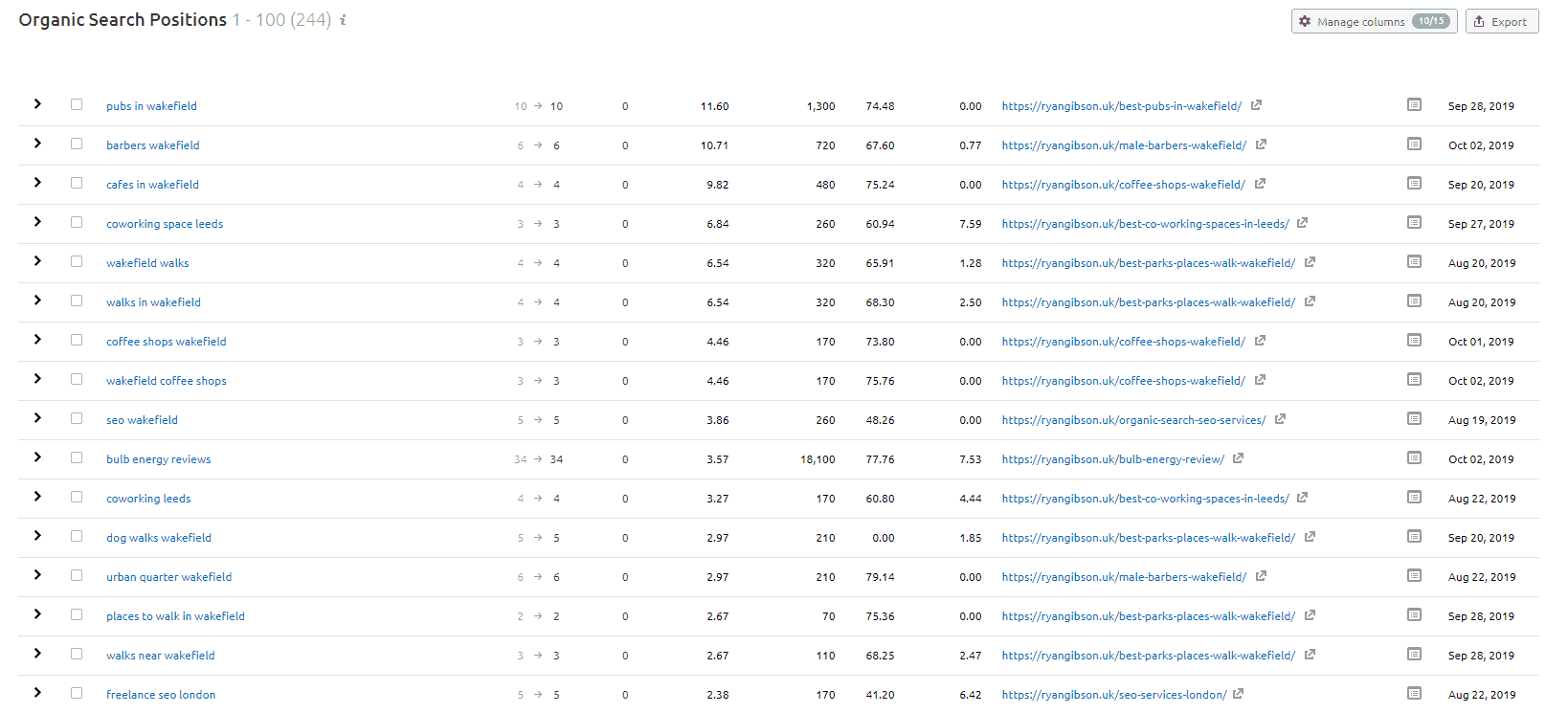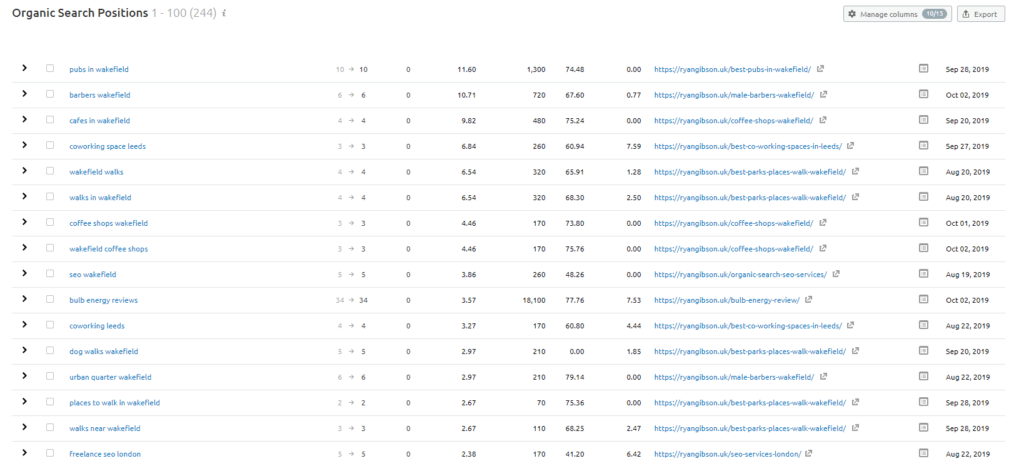 Education Business:
We spent August preparing for September and spending some quality time away from the computer. Our business has continued to improve significantly year on year. Not only from a revenue perspective but the quality of our proposition. Here are some of the highlights from August/September.

Hired an outsourced support team who respond to tickets within 20 minutes
We have supplied them with detailed documentation, helpful videos and guidance on how to deal with the vast majority of support tickets. We also have a dedicated slack channel where we discuss difficult tickets with them. (They are seriously great people).

They tend to deal with 80% of tickets now and it's fantastic waking in a morning and seeing a clear inbox. The response time also wow's our customers as it's not something you typically receive from large, established organisations let alone small educational websites.

250+ New worksheet collections a month on KidsKonnect
We have been aggressively accelerating our content production on KidsKonnect. Our plan is to release in excess of 250 worksheet collections a month (each consists of a fact file and 10 activities). We currently have nearly 1,700 collections but we have a stretch target of another 1,000 (yes 1000) by the end of January.
As a result, we took 10 new worksheet creators on paid trials and have offered regular work to 4 of those. Onboarding new members is time-consuming and exhausting but once you are over the initial pain point it's worthwhile.

Acquisition:
Ian and I also made a pretty significant acquisition in September as we bought another 66 educational websites. Most are in pretty bad condition (Unloved but potential). We are both currently spending our time migrating all the sites to WordPress with the help of outsourced teams across the globe. It's painful but we are confident it'll work out.

Note: We are selling off some of the acquired assets and domains. If you are interested in learning more then let me know.

+ Much more:
We are constantly improving our material across every single website as we believe in adding more value for the same subscription cost. Our goal is to make our subscription just 'part' of a teachers tool kit so there's no second-guessing any renewal.

We have very limited refund requests and our support tickets are minimal. We put this down to the product.
Life:
August was the perfect blend of work and play. Our daughter is term time Nursery only so I managed to take 1-2 days off a week as well as the entire week following the bank holiday. We planned to go overseas again however the weather forecast for the UK was unbelievable so we looked closer to home.

We, therefore, booked Center Parcs in Elveden Forest. Our daughter loves cycling & swimming so we made the most of this as we went swimming twice a day. We also BBQ'ed and largely took all our own food. People talk about the expense of Center Parcs but we spent just £100 in a week as we were geared up for the trip.

I'd argue it was one of our best holidays; even better than the 5 star all-inclusive. A combination of great weather, outdoors and swimming made it a pretty amazing trip.
In September it's been pretty much back to work however now the extension is completed we have plenty of free time to really enjoy our weekends. We managed to squeeze in a day in the beautiful Yorkshire Dales before Autumn officially kicked in.

I've also freed up some of my own time so my wife can pursue things she's wanted to do with her life. One of which is monthly cuppa club volunteering with Age UK. She loves to help people so I take on the Nursery pick up so she can do this. There's a mentality that whatever free time you have you should be trying to earn 'all the money'. I am trying to move away from this and create a balanced, enjoyable life with enough work to keep us financially secure.
How did you spend August/September? Do you find these reports useful? I'd love to hear from you so tweet me with what you have been up to! Any further questions do let me know!